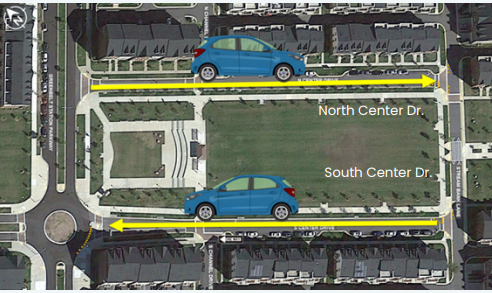 NEW TRAFFIC PATTERN COMING SOON TO GREENBELT STATION
NEW TRAFFIC PATTERN COMING SOON TO GREENBELT STATION
The City of Greenbelt is excited to announce that North Center Drive and South Center Drive
will become one-way streets soon!
This change in traffic patterns is a long time in the making, and it is being completed at the
request of the community to allow for additional on-street parking.
Work is scheduled to begin on MONDAY, OCTOBER 24th, 2022, and is expected to be
completed within five days, weather permitting.
Expect parking and traffic circulation to be disrupted at times. Every effort will be made to
minimize impacts. If necessary, updates will be posted on the City's webpage under "News", on
the City's social media, the Associations website, CIRANET and eblast.
Please be on the lookout for more information and updates.
Questions can be directed to Terri Hruby, Director of Planning and Community Development, at
301-345-5417 or via email at thruby@greenbeltmd.gov.