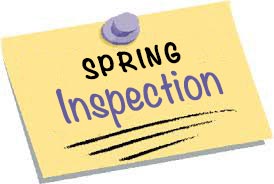 2023 Greenbelt Station Annual Property Inspection Notice
Spring is coming! With Spring comes the Greenbelt Station Annual Property Inspection. The community's governing documents and architectural design standards are designed to maintain Greenbelt Station's curb appeal. To ensure the community's common areas are maintained in keeping with the community's governing documents they are inspected and repaired on a regular basis. While maintenance of common areas is the responsibility of the homeowners association, maintenance of your yard is your responsibility.
During Greenbelt Station's Annual Property inspection, we at CAMP have a single purpose in mind: to maintain or increase your property value. Simply put, aesthetics matter. A neighborhood that looks good has higher resale values. Curb appeal created by a well-maintained home characterized by neat and orderly landscaping (pruned shrubbery, weed-free flower beds), a clean power washed exterior, well maintained garage doors, freshly painted front doors and shutters often increase the home's value by 20%! By outlining our motivations and processes below, we hope you'll better understand the role property inspections play in protecting your valuable investment.
All townhomes and condominiums in Greenbelt Station will be inspected between April – May. Homes with maintenance items that need to be addressed will be sent a notice via USPS mail.
Please take a moment to look at the exterior of your home for rotten wood, mold/mildew, damaged or missing components of the homes, and other general maintenance items.
Please look at your landscape and remove all weeds and dead plants from flower beds and weeds growing between the rocks on the alleyways.
Please make sure your shrubs and trees do not encroach into sidewalks and pedestrian ways and that shrubs are not overgrown and cover your front windows and entryway.
Let's continue working together to "Keep Greenbelt Station Beautiful" by taking a few minutes to look at our homes ensuring maintenance concerns are noted and addressed.